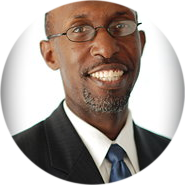 Dr. Compton Ross, Jr. was born to two wonderful parents Mr. and Mrs. Compton and Lynette Ross, Snr. in Guyana, South America, and raised with three incredible sisters – Beverley, Alexis, and Miliswa Ross. At the age of nineteen he accepted Jesus Christ as his savior and was baptized into the Seventh-day Adventist Church. He was very active for the Lord in his local church serving as a deacon, elder, and youth evangelist.
Pastor Ross has been faithfully committed to full time gospel ministry for more than seventeen years. He's pastored three congregations in the cities of Des Moines Iowa, Sedalia Missouri, and Kansas City Missouri. God blessed his ministry, and he was twice named pastor of the year, and three times evangelist of the year in the Central States Conference of Seventh-day Adventists. Dr. Ross also founded two radio broadcast ministries – reaching the communities where he served for Christ. He led the Beacon Light SDA church in Kansas City, MO to complete a major renovation and building project. Under his visionary leadership a 501(c) 3 was established and a substantial grant was awarded to start an early childhood center.
From 2008 to 2014 he served the Central States Conference as a departmental director leading out in several capacities namely, Publishing and Message Magazine, Public Affairs & Religious Liberty, Stewardship, Health, and Men's Ministries. He is certified by the North American Division of Seventh-day Adventists as a Vegetarian Food Instructor, and as a Master Gardener by the University of Missouri.
Pastor Ross is a United States Army veteran, a graduate of Oakwood College, Andrew's University Theological Seminary, and Saint Paul School of Theology, Kansas City, MO with a Doctor of Ministry. He has been married for twenty years to the former Pamela Owens of Milwaukee, Wisconsin who is the love of his life, and his number one support in ministry. They have one child, Jailyn, who is fifteen years old. She is a wonderful daughter and a special blessing. His mother-in-law Mary Owens, a true prayer warrior, also resides with them. He enjoys spending time with his family, playing table-tennis and other competitive games, cooking, running, gardening, and martial arts. He embraces each new day as a gift from God, and His life mission is to lift up Jesus in all that he does, and to be found faithful when the King returns.
Dr. Delsadie Callins
HEAD ELDER
Dr. Delsadie Callins
Cedric Burden

Clementine Collins
Tracy Cook
Kee'Laun Crum
Edna Gardner
Clinton Jones
Benjamin Reevers, Sr.
Willie Scott
Benjamin Sellers, Sr.
Willie Mae Whatley