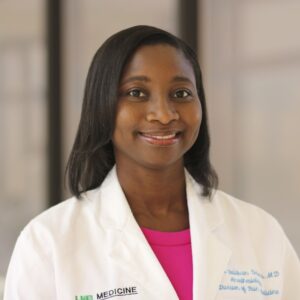 Congratulations to Dr. Alethia Sellers: Inspiring and Reflecting: Martin Luther King Jr.'s Legacy on Alethia Sellers – Anesthesiology and Perioperative Medicine | UAB
In honor of Martin Luther King, Jr., Day, we sat down with Alethia Sellers, M.D., C.M.Q., to discuss what it is like to be an African American in medicine.
Alethia Sellers, M.D., C.M.Q., Associate Professor at the UAB Heersink School of Medicine Department of Anesthesiology and Perioperative Medicine, has a life and career shaped by extraordinary African Americans. She was born and raised in Birmingham, AL, by her parents. Her grandfather, Reverend Abraham Woods, Jr, was president of the Birmingham chapter of the Southern Christian Leadership Conference (SCLC) where he would lead community marches. He is most famously known for working alongside Martin Luther King, Jr. (MLK), Fred Shuttlesworth, and other pivotal civil rights leaders to coordinate the 1963 March on Washington for Jobs and Freedom. Woods even stood behind MLK as he delivered his famous "I Have A Dream" speech. Her mother, aunts, and cousins participated in children's marches leading to their eventual arrest and jailing for a week.
"Not a day goes by that I am not grateful for her and other foot soldiers who were arrested, beaten, and even killed so that I can receive the education that I do, go to the shops I support, work where I do, and even live in the neighborhood I reside in today," Sellers says.
Provided with shadowing opportunities and exposure to African American physician leaders, Sellers attributes her uncle, an African-American urologist, and Tony Jones, M.D., former department Chair, as examples of what it means to be a talented physician. She also attributes a great deal of her success to leaders who were not of similar background yet were critical in her success by sending opportunities her way. Sellers hopes to set an example for her younger brother,a surgery resident at the University of North Carolina at Chapel Hill. "As an African American physician, I know that I stand on the shoulders of my ancestors who helped pave the way so that I can break the stereotype of what a good doctor looks like," she says.
On the eve of MLK's birthday, Sellers reminisces on how far African Americans have come. Because she grew up with civil rights giants and foot soldiers as her honorary family members; the civil rights movement's legacy was instilled in her at a young age, and it is a legacy she carries with her to this day.
Leading By Advocacy
In the last decade, data shows that the number of African American physicians has not increased. "I think it is important to increase this number so there are more mentors to support African Americans looking into working in the medical field," Sellers says. "Pipeline programs where young children can get exposure to all professionals, including physicians who look like them, will allow them to dream even bigger than they may have if not given that exposure of what was possible."
In recent years, there has been a pointed movement to shed light on disparities present in health care. In addition to the movement to improve patient care, academic medical communities have been actively working toward advocating and enforcing the importance of diversity, equity, and inclusion (DEI). Current department Chair, Dan Berkowitz, M.D., established the department's Diversity Council in 2019 to address and improve DEI efforts. The council, which Sellers has been a member of since its inception, has made recommendations for improved inclusion at all levels – from trainees to faculty and staff.
The council actively works with the departmental recruitment team to push forward inclusion efforts, such as establishing a diversity statement and including interview questions related to inclusion. In 2022, the Diversity Council hosted a welcome social for Underrepresented in Medicine (URiM) trainees. Sellers has also worked alongside colleagues to advocate for increasing professional development and promotional opportunities, and developing a process to ensure pay equity. Additionally, the Diversity Council is currently creating a climate survey to ensure that these efforts are ongoing.
Sellers has faced both conscious and unconscious bias; having a patient refuse to accept care because of the color of her skin and facing insensitive comments from colleagues. She inspires the next generation of African American physicians by emphasizing the importance of having a great mentor. She says that there will be setbacks and medicine still has a way to go, but she is "inspired to be the best physician [she] can be for those who may have been treated unfairly because of the way they look, their socioeconomic status, and all others who have been marginalized."
Samuel Devon Richardson, a member of the Class of 2020, is a high school senior at Victory Christian Academy in Columbus, Mississippi. He is also dual enrolled at East Mississippi Community College. Samuel's current GPA at Victory Christian is 3.82 and his current GPA at EMCC is 3.5. At Victory Christian, Samuel has been blessed to be a member of the National Beta Club during all four years of high school and served as Beta Club Treasurer during his senior year. He has also been on the All "A" Honor Roll during his entire high school career, a member of the National Duke TIP 7th – 12th Grade Talent Search, and a member of the Honor Society. Samuel played on the Junior Varsity Basketballteam during his freshman year and the Varsity Basketball team during his senior year without compromising his beliefs. The Varsity Basketball team made it to the State Playoffs.
Samuel has been a baptized member of the Ephesus Seventh-day Adventist Church in Birmingham, Alabama since April 24, 2010, and he has been very active. Over the years, Samuel was also a member of the Ephesus Adventurer Club, Ephesus Youth Choir, Central Alabama Youth Choir, the Audio/Visual team, and Jesus Crave, the South Central Conference Youth Choir. He also participated in the Ephesus Children's Program in the Smithfield community in 2019, played for the Ephesus Basketball team during the 2019-2020 season, and sang with the 2019 OU Live Choir during a college days visit to Oakwood University.
Samuel's community service as a high school student totals over 60 hours, and he has been fortunate to do such things as help out with food pantries, annually serve Thanksgiving Dinner to inmates in the West Point Correctional Facility, assist his mother with Women's Ministry projects, and serve as a host of "Listen 2 Our Teens".
"Listen 2 Our Teens", a nonprofit television program for teenagers ages 13 to 19, airs on PEG-TV Channel 18 COMCAST in Jackson, MS. It is also aired on 3ABN Station, WFNH 95.1FM, in Jackson, MS and YouTube. Ms. Deborah Gant, the director of the show and founder of Focus on Natural Health Education (FONHE), gave him creative freedom to come up with topics, show titles, and interviews that would be of interest to young people.
In 2019, Samuel was honored to receive the Academic Achievement Award from the Alabama Veterans for Christ Ministry. He was also offered multiple academic scholarships from around the country but ultimately decided to accept the scholarship from East Mississippi Community College, which he now attends as a dual enrolled high school student. His plan is to continue to take his basic courses for Computer Science and then decide whether to attend Mississippi State University OR "The W" (which is the Alma mater of both his father and mother). If Samuel later attends MSU, it will be for Computer Science, but if he attends "The W", it will be for Business Administration with a concentration in Management Information Systems.
The work of the people of God is to prepare for the events of the future, which will soon come upon them with blinding force (2SM 142.2)
Hello Church Family,
The following article and videos highlight some of the events that have occured this year and address how these events may affect our religious liberty.
Part 1 – Doug Batchelor
Part 2 – Doug Batchelor
SDA Religious Liberty Department